Tonsättaren Lennart Fredriksson
Vienna Modern Masters: Twentieth Century Classics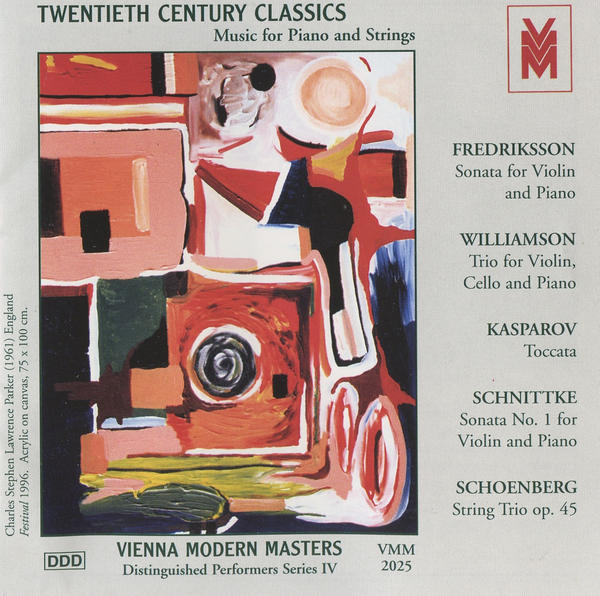 Twentieth Century Classics ingår i Vienna Moderna Masters (VMM) serie Distinguished Performers Series. Inspelningen av min Sonata for Violin and Piano med Dan Almgren, violin, och Roland Pöntinen, piano, fick första pris i skivbolagets tävling Performers Recording Award 1997.
Jag har kommenterat verket i cd-konvolutet:
Two successive major thirds, one descending in the violin part, one rising in the piano part, constitute a primary cell from which much of the melodic and harmonic material in the first and last movements of the Sonata for violin and piano emanates.
The second movement, a virtuoso scherzo in ABAB form, contains distinctly contrasting parts. Part A, muted and smoothly swinging, is related to a motif, introduced by the piano, from the middle of the first movement. Part B is more rhytmical and is characterized by the piano's prominent "walking bass". At the end of the movement, the music reaches a state of almost brutal insistance before it comes to a close.
The two major thirds again compose the foundation of the andante third movement. The recitando in the middle of the movement speaks in an agitated voice which gradually settles into the open-ended finale.